Can you fly with wrapped gifts?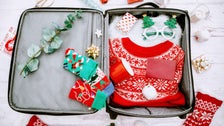 Although the omicron variant of coronavirus has forced many people to change their Christmas plans, holiday travel still seems to be in full swing. In the last four days alone, the Transportation Security Administration has checked more than 2 million daily passengers at airport security checkpoints, almost double the number seen in those days a year ago.
Flying during the holidays can lead to logistical challenges, especially when there are gifts. For some people, it is difficult to find space in their suitcases for all the gifts they bought for their loved ones. Others may be concerned about packing them securely to avoid damage or other mishaps.
And of course, there are those who like to plan ahead by wrapping their gifts before putting them in their bags. But is it okay to fly with wrapped gifts? We asked a couple of travel experts to share their tips.
What you need to know about carrying wrapped gifts on flights
"Be sure to follow TSA guidelines when packing," said Cheryl Nelson, a travel preparation expert and founder of Prepare with Cher. "While there are no specific gift wrapping restrictions, there is a possibility that your perfectly wrapped gift with the curly bow may be unwrapped by a TSA agent if your luggage is marked for a security inspection. ".
While there are no explicit rules prohibiting this, the TSA advises not to wrap your gifts before packing them in your suitcase, as there is a possibility that this may be undone during the security check process. This guide applies to both checked and carry-on baggage.
"If a wrapped gift is in a handbag or checked baggage, if your luggage is marked with the TSA, your gift will be unwrapped," Nelson said. "This could lead to delays in passing TSA security and delay the fact that checked baggage arrives in time for the scheduled departure of the flight."
What to do instead
It is understandable that you do not want to risk being delayed or that your beautiful wrapping paper will break. But there are ways to be prepared without having everything completely wrapped up as a gift.
"You can store your gifts in a gift bag or box, but you want to make sure that TSA agents can open them easily if they need to be inspected," said Lindsay Schwimer, a consumer travel expert with Travel. . – Hopper booking application.
Nelson also offered other suggestions for flying with gifts.
"An easy alternative is to pack a gift bag and tissue paper and properly place your gift in the gift bag once you arrive at your destination," he said. "If you really want to wrap your gift, wrap it in paper and tape and save the wrapper for your destination."
If you want to completely wrap your gift before traveling by plane, you may also want to consider sending it separately to your destination by mail.
Other things to keep in mind
When preparing for your holiday flights, remember that everything you carry in your bag is subject to TSA regulations, including gifts. So if you have someone with a set of beautiful hand lotions, make sure they are hand-sized or put them in your checked bag.
"Travelers unsure whether an item should be packed in a suitcase or checked out should consult the TSA homepage and refer to the" What can I bring? "Section for the guide. more up to date, "Schwimer said.
Nelson pointed out that craft scissors are only allowed in checked baggage, so don't try to throw them in your suitcase with other gift wrapping supplies.
"Someone in your destination may have scissors that you can borrow," he added.
Nelson also offered a word of warning about a particular holiday favorite: the snow globe.
"If you plan to pack a festive snowball in your carry-on luggage, remember that snowballs are considered liquid and any liquid over 3.4 ounces, approximately the size of a tennis ball, will be marked and confiscated by TSA agents ". she said. "If you plan to give away a snowball as a gift, wrap it carefully in bubble wrap to protect your checked baggage."
And remember: if you want to fly this holiday, make sure you take all the proper precautions to help reduce the spread of COVID-19. Wear your mask at the airport and on board, wash and sanitize your hands frequently, keep a safe distance from others whenever possible, and don't want to get sick.